(Credit: Image by nicepng via nicepng)
The world is full of different kinds of tattoos. Some of them are small, some large, some people are fully covered in tattoos and some tattoo artists are ready to tattoo, even if it takes hours of work.
Some people even broke tattoo world records with their tattoos and tattooing skills. These individuals have achieved what nobody ever has in their category, they broke a Guinness World Record. In this blogpost, we want to show you 10 of the craziest Guinness World Records in relation to tattoos.
The oldest tattoo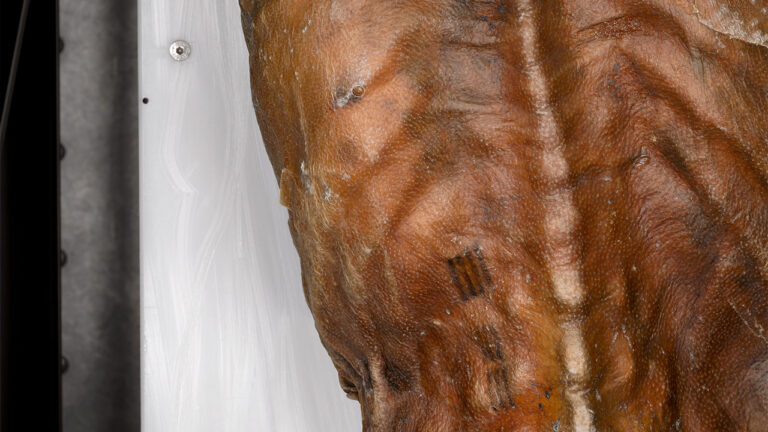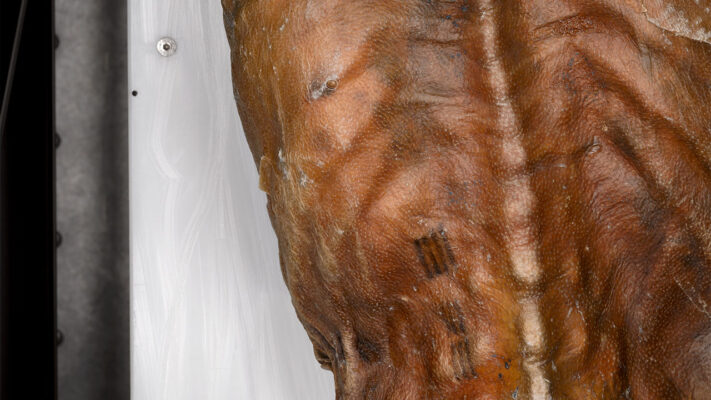 The world record for the oldest tattoo belongs to Ötzi, the mummified man which was discovered in the Italian Alps in 1991. Ötzi is a man who lived some time between 3350 and 3105 BC, which means, he died around 5,300 years ago. He has 61 tattoos on his body. Ötzi's tattoos occur on his back, ribs, lower legs and left wrist. They were created by slicing open the skin and rubbing in charcoal dust.
(Credit: Image by Joshua Rapp Learn via Science)
61 hour long tattoo session
Many people have tried to break the Guinness World Records for the longest tattoo session. But the person which broke the record is Giovanni Vassallo. Giovanni's attempt started at 10am on the 5 August and ended at 23:37 pm on the 7 August of 2022. He broke the record by tattooing for 61 hours and 37 minutes.
(Credit: Image by Wikipedia Commons via Wikipedia Commons)
Largest tattoo machine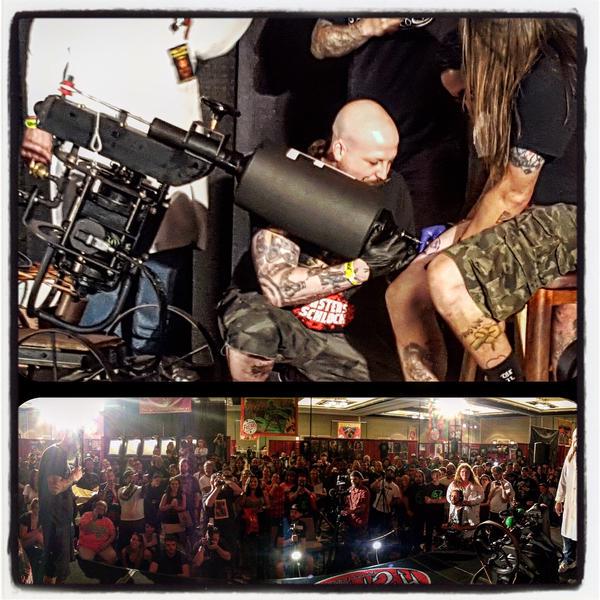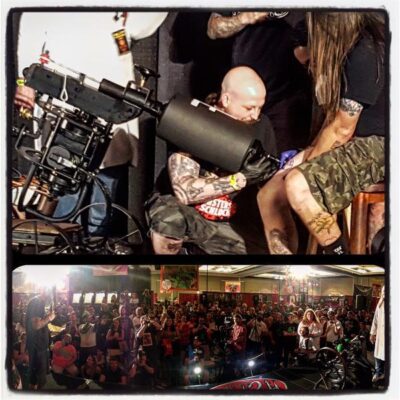 The largest tattoo machine is 1.29 metres (51 inches) tall, and was made by Ray Webb, Burnaby Q. Orbax and Sweet Pepper Klopek. The world record was achieved at the Hell City Tattoo Festival on 30 August 2015.The machine is a replica of a small tattoo machine from the company NeoTat, but in a much larger size. The remaining dimensions for the machine are as follows – weight: 68.94 kg (152 lb), depth: 0.83 m (33 in), width: 0.32 m (12.87 in).
(Credit: Image by Daily Planet via Scoopnest)
100% covered in tattoos
The world record for the most tattooed person holds Lucky Diamond Rich. He is 100% covered in tattoos on his entire body. The most special bodyparts are: eyelids, toes, in his ears and even his gums. Lucky has already spent 1,000 hours on tattooing, by hundreds of different tattoo artists.
(Credit: Image by Connie Suggitt via Guinness World Records)
864 tattooed insects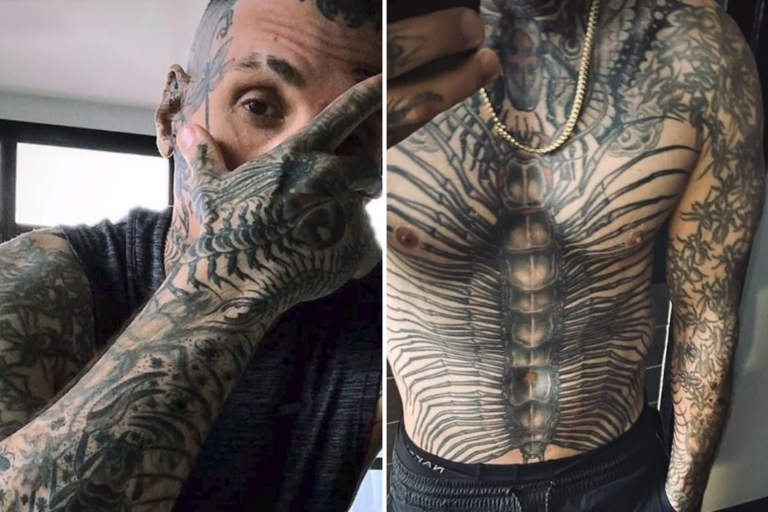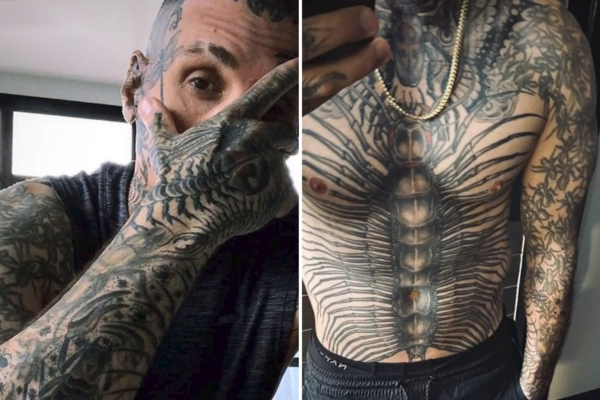 The most insects tattooed on the body is 864, and wasachieved by Michael Amoia in New York, USA, on 28 October 2021. Because of his tattoos, Michael achieved one of the Guinness World Records. Michael decided to break this record in order to raise awareness for a charity that helps underprivileged kids.
(Credit: Image by Lauen Fruen THE U.S. Sun)
The same name tattooed 267 times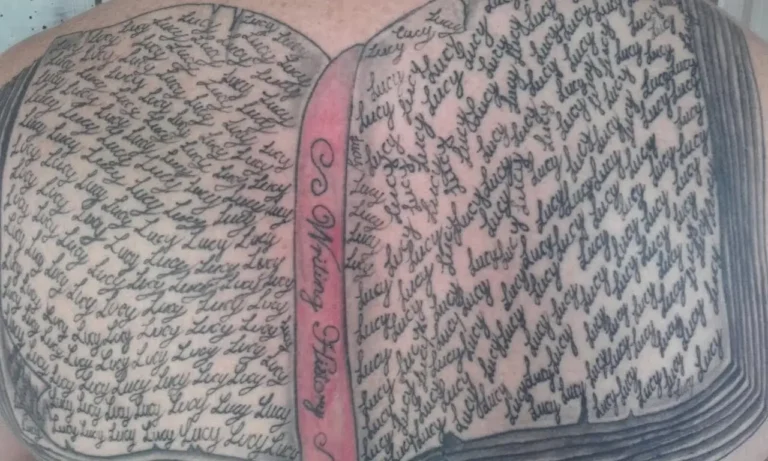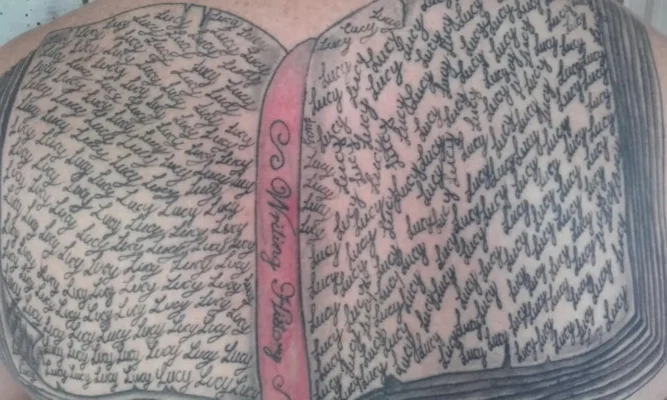 The most tattoos of the same name on the body is 267 and was achieved by Mark Evans, in Wrexham, UK, as verified on 25 January 2017 by the Guinness World Records. Mark had the name "Lucy" tattooed on his back 267 times, in celebration of the birth of his daughter Lucy. This attempt was intended to raise funds for the hospital, where his daughter was born.
(Credit: Image by Sarah Barns via THE Sun)
Most flags tattooed on a body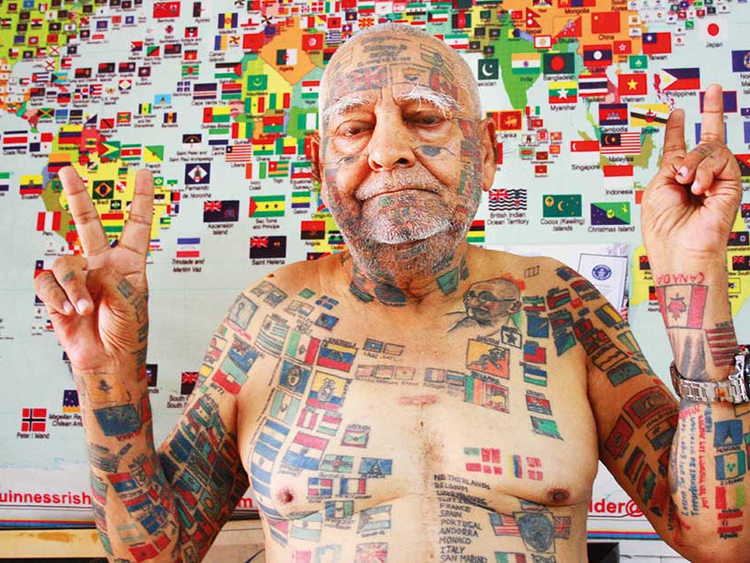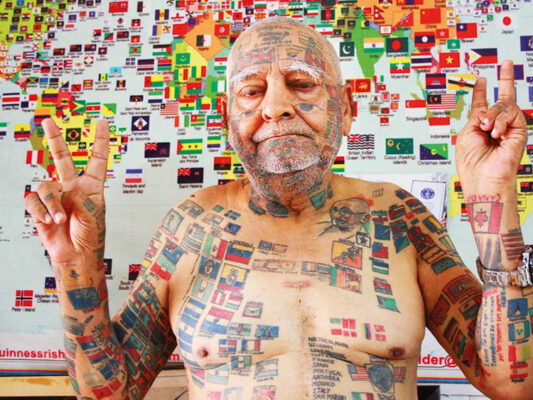 Guinness Rishi, 70, from Delhi, is covered in the flags of 305 different countries, 185 country maps, 165 mini flags and 2,985 characters. Guinness Rishi has been holding this world record since May 2010. His latest additional 61 flags were tattooed at 'Team KDZ Tattoos Body Work' inDelhi, India, and took a time of 3 hours 3 mins to complete.
(Credit: Image by Nilima Pathak via Gulfnews)
First tattoo at 104 years old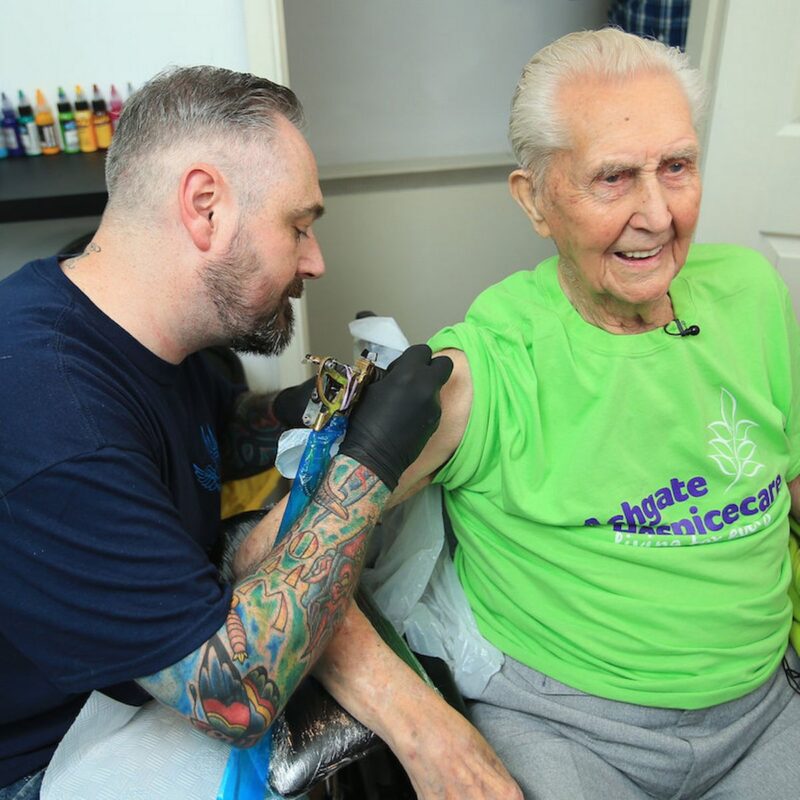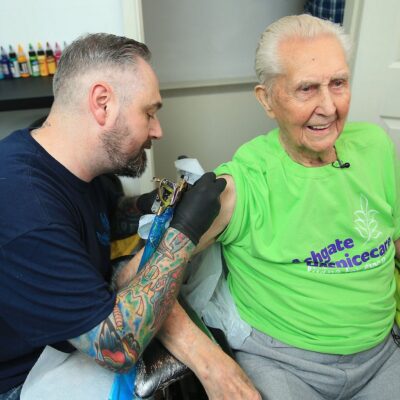 The oldest person to receive their first tattoo is Jack Reynolds (born 6 April 1912) who was tattooed aged 104 years, in Chesterfield, UK, on 6 April 2016. Jack had "Jacko 6.4.1912" tattooed on his upper arm at Pete Who's Tattoos in Chesterfield. It occurred on the morning of his 104th birthday.
(Credit: Image by Rachel Bishop via Mirror)
Homer Simpson(s)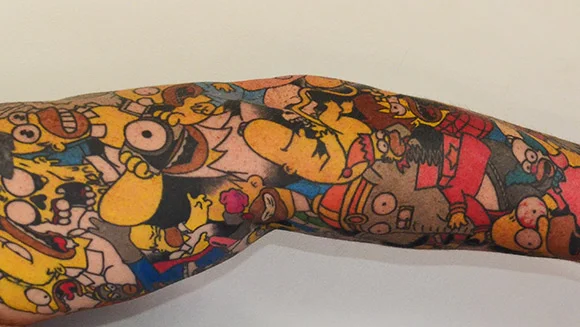 Lee Weir from New Zealand has won a Guinness World Record for his tattoos, which took 6 years to be finished. His left arm has 41 different versions of the cartoon character "Homer Simpson". Mr Weir got his first tattoo of Homer in 2007, and knew he wanted to create a sleeve on his left arm in tribute to his favourite TV show.
(Credit: Image by Kyle Chayka via Time)
Most eyebrow microblading in 24 hours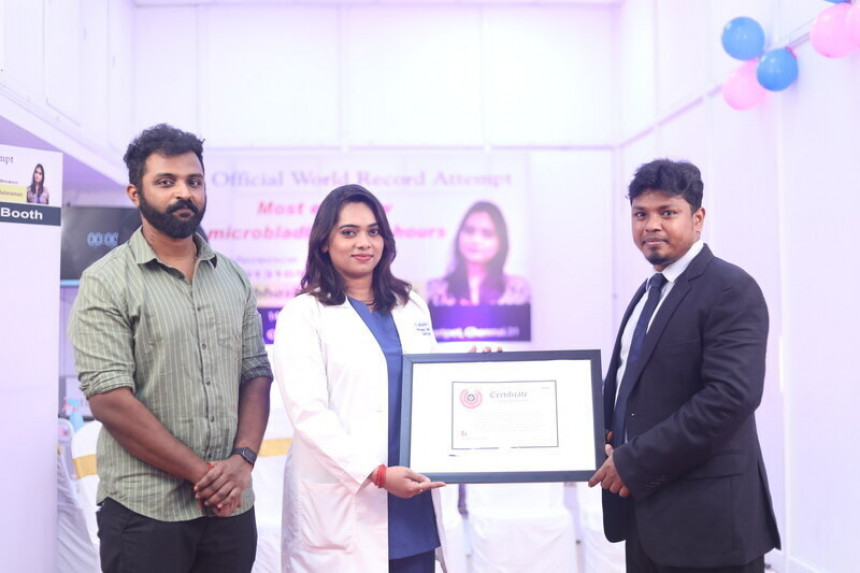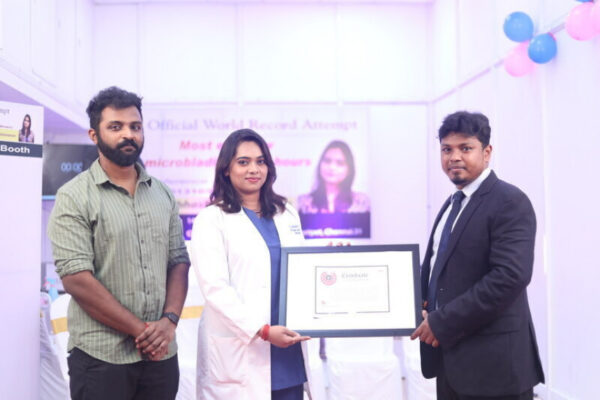 The most eyebrow microblading in 24 hours is 168 and was achieved by Dr.Subhashini Balaraman in Chennai, India, on 15 November 2021. Dr.Subhashini Balaraman attempted this world record as a personal achievement. In the past, Balaraman did microblading for chemotherapy patients & acid attack victims at free of cost, as a charity and good will.
(Credit: Image by Unique World Records via Unique World Records)
Final thoughts on Guinness World Records
We hope that you found this blogpost interesting, and that these records inspired you to even try and break one of Guinness World Records!
If you are planning to get a tattoo, or even multiple, don't forget to use the NoPain numbing cream. The numbing cream helps you to prevent the pain from getting a tattoo.
More interesting facts can be found on our other blogposts!
Don't forget to follow us on Facebook and Instagram